Janitors Allege Ross Dress for Less Equates Work for Less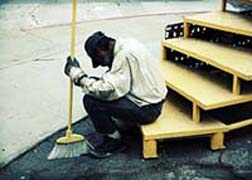 By
Gordon Gibb
Oakland, CA A California-based chain of discount clothing stores has been accused of undermining fair play and fair pay for custodians by allegedly creating a sophisticated scheme that serves to lower the chain's costs for custodial services on the backs of low-paid immigrant workers in violation of California labor law, or so it is alleged.

Ross Dress for Less (Ross) is a clothing chain based in Pleasanton. According to a report in the
Contra Costa Times
(9/6/13), Ross is accused of contracting janitorial services through USM Inc. (USM), an enterprise headquartered in Pennsylvania. USM, as a go-between or sub-contractor, then hires janitors and janitorial companies to actually undertake janitorial services at Ross' 1,000 stores across the country.
The crux of the California labor lawsuit, brought by three residents of Oakland, is that Ross allegedly shortchanges USM, through the provision of funding less than what might be reasonably required to undertake the hiring of qualified janitorial staff or contractors.
The result, according to the California labor code complaint, is such under-funding leads to the hiring of so-called "fly-by-night" enterprises, which in turn use immigrant labor, denying those workers adequate pay for work performed.
The California labor lawsuit, filed last month in Alameda County Superior Court, was originally put by three Oakland residents who accuse Ross of violations under California labor employment law. However, it has been reported that lawyers close to the case are hoping to see the lawsuit evolve to a class action.
"Ross knows, or should know that the funds provided to USM under their agreement(s) are not sufficient to allow USM to comply with all applicable local, state and federal laws," the lawsuit states. For those workers toiling as janitors in Ross locations in the state of California, reduced pay stemming from the alleged underfunding for provision of janitorial services constitutes an alleged violation of California prevailing wage law.
According to the California employee labor lawsuit, the three plaintiffs were issued paychecks that were late, reflected values that were insufficient compared with the work performed, or checks that lacked overtime pay for work performed at Ross locations. The plaintiffs worked for firms contracted by USM Inc. to provide janitorial services for Ross Dress for Less.
California labor law works in concert with federal wage provisions under the Fair Labor Standards Act (FLSA) in order to uphold statutes and provisions designed to ensure workers are provided an adequate wage within the eyes of the law and fair play. When that doesn't happen, workers have various regulatory and legal options to pursue a claim.