Salvation Army Faces California Labor Lawsuit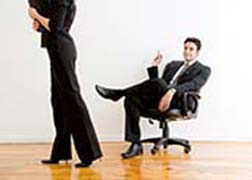 By
Heidi Turner
Sacramento, CA The Salvation Army faces a California labor lawsuit alleging a female employee was sexually harassed while working for the nonprofit organization. The California labor law lawsuit names both The Salvation Army and one of its captains as defendants.

According to
court documents
, Kimberlea Rea is employed as a bookkeeper/human resources assistant by The Salvation Army at the Modesto Citadel and has been since March 2006. Her job reviews have been favorable, including praise for being "a valuable employee."
But the lawsuit alleges that one of The Salvation Army's captains began approaching Rea and asking for her home address. Despite her refusing to give her address, she later saw the captain driving by her home. Eventually, he began asking for hugs and kisses on the cheek, leering at her body and telling her she "looked hot." The situation allegedly escalated to the point where the captain talked to Rea about his sex life, inappropriately touched her and followed her around the office.
During December 2012, the lawsuit alleges, Rea complained to supervisors about issues with the captain, but the captain was not moved to a different location and no action was initially taken against the captain. In February 2013, after further alleged instances of harassment, the captain was moved to a different section of The Salvation Army. At the time, Rea noted that she was experiencing humiliation, degradation, embarrassment and sleeplessness as a result of the captain's actions.
Rea was reportedly told by The Salvation Army that some of her complaints were supported by its investigation and that she was not found to be responsible for the captain's behavior. But the lawsuit alleges Rea was never given a public apology from The Salvation Army, nor were her claims ever publicly acknowledged. She was also reportedly told by The Salvation Army that they would prefer she simply leave her position with them. Furthermore, according to the lawsuit, The Salvation Army's policy regarding the captain's conduct was zero tolerance, which meant the captain should have been fired for his actions. Instead, The Salvation Army publicly called his transfer a reward for a "job well done."
"TSA [The Salvation Army] never provided Rea with a written confirmation of its findings or what actions would be taken to prevent future harassment from occurring," the lawsuit states. "Rea concluded TSA wanted to merely appease Rea while maintaining a public persona that there was no problem within TSA concerning sexual harassment."
Following Rea's complaints and the captain's transfer, Rea has reportedly been subjected to critical comments and remarks about her job performance.
The lawsuit seeks damages of $1 million, as well as compensatory damages.