Is Cost-Cutting Wal-Mart Bad for California Labor Law?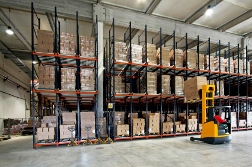 By
Gordon Gibb
Sacramento, CA A decision by the world's largest retailer to outsource its supply-chain and logistics to third-party companies, who then are said to hire poorly-paid temporary workers, has succeeded in the overall lowering of wages and benefits for US workers in the state and has turned back the clock on hard-won improvements under California labor law.
That retailer is Wal-Mart Stores Inc. The National Employment Law Project, a labor organization advocating for low-wage workers, released a study critical of Wal-Mart and how it has decimated wages and benefits in the name of cost control. Some of the criticism translates as an affront to California labor code.
The Los Angeles Times
(6/6/12) reported on the study, which relates to a large warehouse wholly-owned by Wal-Mart in Mira Loma, south of the Los Angeles / Ontario International Airport. The massive retailer has a partial ownership stake in another warehouse facility as well.
The study, according to the
LA Times
report, found that Wal-Mart has cut its costs on the supply side by outsourcing the operation of its warehousing, and the delivery of inventory. Those third-party entities, according to the study, will often hire Latino workers and pay them less??"sometimes at rates which fall below the stated minimum wage as identified under California labor code.
The
Times
report referenced a California labor lawsuit filed this past October against Wal-Mart's prime subcontractor, Schneider Logistics Inc., as well as Impact Logistics Inc. and Premier Warehousing Ventures. The complaint included allegations that employees were "forced to work long hours, under oppressive conditions for legally inadequate pay," sometimes below the state minimum wage of $8 an hour, according to the
Times
report.
The study "is not in any way suggesting that using subcontractors is a bad thing in and of itself," said Catherine Ruckelshaus, one of the authors of the study. But "when you're acting like Wal-Mart and exercising control at the warehouse and insisting on low cost, low cost, it puts pressure on the contractors and others in the chain to do work for subpar wages and under unhealthy working conditions," she said.
The state of California has previously levied fines in excess of $1 million against Impact Logistics and Premier Warehousing for violations of California labor employment law. Those violations are said to have included improper pay records and the failure to maintain itemized pay statements for hundreds of temporary workers.
Critics of the Wal-Mart model have observed other major retailers have dipped their toes into the third-party waters, in an effort to cut their own costs and compete with the retail juggernaut.
The California and labor law report noted that Schneider denied any wrongdoing, while Premier and Impact failed to respond to requests for comment. The
Times
repot noted that Premier cancelled its contract with Wal-Mart, while Schneider agreed to hire the workers as direct employees and pay them a wage of $12.75 per hour plus benefits. Under California labor employment law, workers must be paid a minimum of eight dollars per hour, and be provided with regular meal, and rest breaks.
A spokesperson for Wal-Mart noted in a statement that the giant retailer holds "contractors and subcontractors to the highest standards and expects them to comply with all applicable laws," according to California employee labor law, noted Dan Fogleman, in comments published in the
LA Times
.