Caregivers Still Waiting for California Overtime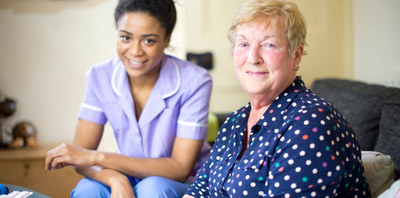 By
Jane Mundy
Los Angeles, CA Charlene quit her job as a retail supervisor to look after her mother who requires care 24/7. "I don't have any savings or other means of income so I was counting on a fair wage and California overtime when the IHSS kicked in this past January," says Charlene.


"But five months later I am still struggling, along with most other caregivers, to make ends meet."
The California In-Home Supportive Services program (IHSS) was put on hold mid-January by the Brown administration due to a judge striking down federal regulations that would have allowed the change nationwide, according to the
Sacramento Business Journal.
So about 400,000 workers are now in limbo: they will continue to be paid an hourly wage from 2014 and will have to wait for any overtime compensation.
"My mother has physical and mental disabilities and can't be left alone," Charlene explains," but I am not about to put her into a long-term nursing facility where she will waste away." If and when the Brown administration's decision to deny California overtime is overturned, paying caregivers a fair wage and overtime would still save the government a huge amount of money.
If Charlene did place her mother in a skilled nursing facility, the annual cost is more than $65,000. According to a 2012-13 report from the Legislative Analyst's Office, the annual cost for someone with an average number of IHSS hours is closer to $13,000.
"In addition to making $9 per hour and working about 14 hours a day without overtime pay, my checks are constantly delayed, even though I have direct deposit set up," says Charlene. "The inconsistency of receiving my paychecks has caused me to pay interest on my monthly expense bills and extra bank charges. And stress. This whole system is so unfair and legal action is the only place where I can turn."
According to responses (mostly women) from a PayScale salary survey, caregivers in the Los Angeles area receive an average pay of $9.96 per hour. Earnings can vary between $8.10 per hour and $16.48. Only one in eight respondents receives medical and dental coverage.
Dana (not her real name) typically works 13 or 14 hours a day, also without any overtime pay. She has been employed as a caregiver by 123Home Care for the past two years. "When the company hired me I agreed to $11 per hour with overtime after working more than 9 hours a day, or 45 hours per week," says Dana. She is still waiting for overtime pay.
"The family I work for cut back on the nurse visits - from once a day to twice a week, but their mother is getting worse. I wound up working 70 hours one week up until a few months ago, when I reduced my schedule to 55 hours a week," Dana explains. "I contacted my employer at 123Home Care regarding overtime pay. He told me that my regular pay rate is reduced because I work more than 12 hours a day and the balance is paid to me in overtime. I was never told that during orientation and I believe this company is violating
California labor laws
and the
FLSA
(Wages and Fair Labor Standards Act).
Charlene and Dana were hopeful this past March when President Obama said that his administration would soon announce the details of a reform to overtime rules nationwide. "What we've seen is, increasingly, companies skirting basic overtime laws, calling somebody a manager when they're stocking groceries and getting paid $30,000 a year," President Obama told the
The Huffington Post
in an interview. "Those folks are being cheated."
More than 400,000 caregivers anticipate Brown's ruling to be overturned on appeal. With $183.6 million in the current state budget and $314.2 million in Brown's proposed 2015-16 state budget, clearly the money is there to pay Charlene and Dana and countless other workers the overtime pay they are entitled to. Given the cost of nursing homes and other care facilities, it would be a win-win situation for all…
For more information, here is the
court ruling
.