Hostile Work Environment—Violation of California Labor Law?
By
Jane Mundy
Los Alametos, CA There are many forms of a hostile work environment; sexual harassment and discrimination clearly violate the California labor law while other forms of California labor employment laws are not so cut and dry and may need a lawyer to determine whether your rights are being violated. Treena believes she has been "singled out" by her employer. "Sometimes it doesn't pay to be honest and play by the rules," says Treena.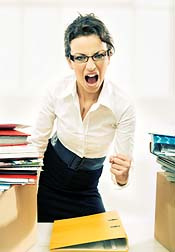 "This past April there was an employee shooting at the hospital where I was working," explains Treena. "An employee working in outpatient pharmacy killed his manager, executive director and then himself. My job is to report to the command center and document everything when any incidents happen. I saw all the details of the event on security camera. At the time I was intent on doing my job and after the shooting my boss and I worked to coordinate crisis intervention counselors for about 5,000 hospital staff. I made sure everyone got counseling and departments were debriefed. But I couldn't get counseling because I was required to be in the office when the counselors were on site. There is no backup for me.
Instead, my boss was angry with me because I wasn't supporting her; I was too busy with this incident. In fact she was impeding my job.
Since then I have been very angry toward her and her manager because I wasn't provided with the assistance to help everyone and myself. I begged for help and couldn't get it. I went to the doctor for stress; I have lost more than 20 lbs, my hair has fallen out and I am emotionally unstable. When I complained of stress to my boss, I was ignored.
Now I am on stress leave. After the shooting I told my boss that I wanted to transfer to another department; we couldn't function as a team and I couldn't do my job. She said OK and wished the best for me. About one week later, the department secretary yelled at me twice and hung up the phone when my son called??"that was my breaking point. I felt that I was working in a hostile work environment and believe they have violated the California labor code. I never did get the transfer. Instead I was sent to HR for disciplinary action; I have never been in trouble in my life--I have almost 5 years of an unblemished record at this hospital.
I think if there is an opportunity where I make a mistake they will terminate me. Without warning. Isn't that a hostile environment?
I was talking with my pastor and he said I really have to see a therapist. I still want to transfer to another department and the position is still available. The director of that department was negotiating it but my boss won't allow it. I am hopeful that a lawyer can intervene and mediate this, and tell me whether they are indeed violating the California labor law…
I am seeing a therapist now but I am still very anxious and afraid. Even after the shooting I was in a situation where I was alone with someone who threatened to kill the staff. His father had surgery here and died of complications??"he was obviously very mad. And my boss knew about this incident but again, she didn't want to take care of the problem.
I believe I have been singled out because I applied for a transfer. Hospital policy requires that you notify your manager before requesting a transfer. It doesn't pay to be honest and adhere to the rules."