Wage Theft not Tolerated, Says California Labor Commissioner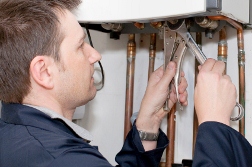 By
Jane Mundy
Stockton, CA A recent civil wage and penalty assessment issued by the California Labor Commissioner has resulted in a plumbing contractor having to pay over $1 million in California labor law violations.

The Cypress-based Nicodemus Plumbing & Mechanical contractor was ordered to pay 44 employees $858,840.20 in wages and $230,050 in fines for California labor code violations, including
overtime violations
. California Labor Commissioner Julie Su issued the assessment in an attempt to collect monies from the contractor owed to the workers.
According to the California Department of Industrial Relations' (DIR) Division of Labor Standards Enforcement (DLSE), also known as the California Labor Commissioner's office, the plumbing contractor failed to pay overtime and intentionally falsified certified payroll records by shaving the number of hours actually worked by its workers. Evidence by the California state labor law agencies revealed that Nicodemus Plumbing falsified records to underreport the number of hours worked??"violations of the California prevailing wage law.
Commissioner Su said that wage theft will not be tolerated, and that the contractor basically stole money from workers by falsifying records.
The workers performed plumbing work for San Joaquin Delta Community College??"the college hired Taisei Construction Corporation as the general contractor who then contracted Nicodemus Plumbing. The construction company was also served with a civil wage and penalty assessment.
The California Professional Association of Specialty Contractors (CALPASC) applauded the enforcement agencies on their assessment of
willfully
non-compliant contractors (some contractors are unintentionally non-compliant). Bruce Wick, CALPASC Director of Risk Management, said that some awarding authorities and general contractors continue to seek the lowest bid, regardless of whether those bids are in compliance. And in this case, at the expense of 44 workers.
"By investigating the source of the problem and publicly identifying those involved, as the Labor Commissioner's office has done, legitimate contractors will have a better chance at competing within this challenging economy," Wick said.
A spokesperson for the Plumbing-Heating-Cooling Contractors Association of California (PHCCA) issued a similar statement, praising the Labor Commissioner's investigation and condemning the contractors. "Everyone loses when state contractor laws are ignored," said Tracy Threlfall, PHCCA Executive Vice President. "Legitimate contractors are driven out of business, employee and public safety go at risk, the quality of the product suffers and workers are short paid and may not be covered by workers' compensation insurance, while California loses millions in taxes. Shining a spotlight on the problem and the culprits may incentivize contractors to act within the law."
According to
The Sacramento Bee
(11/6/12), the Commissioner said that "prime contractors can be held jointly responsible when their subcontractors fail to follow California's labor law." Further, the California Labor Commissioner's office stated that it will "investigate all parties responsible for labor law violations to put the proper incentive on decision-makers in construction projects to deal only with honest, law-abiding contractors."
The California Department of Industrial Relations' Division of Labor Standards Enforcement adjudicates wage claims, investigates discrimination and public works complaints and enforces state labor law.