Silicon Valley Sexual Discrimination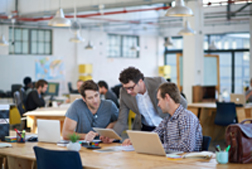 By
Jane Mundy
San Francisco, CA On the heels of two recent California labor lawsuits where Facebook and the venture capital firm Kleiner Perkins Caufield & Byers were sued for alleged sexual discrimination comes another charge, this time targeting Twitter.

Since Ms. Pao filed a sex-discrimination lawsuit against Kleiner Perkins in 2012, she has received much support in the tech community, telling
The Wall Street Journal
(April 6, 2015) that "you can't just hide" from the problem of workplace sexism and that Silicon Valley must continue to work on the issues brought up in her loss.
On March 27, jurors in Superior Court in San Francisco found that the venture capital company did not discriminate against Ms. Pao, who was asking for $16 million in compensatory damages plus punitive damages. Despite her losing the case, legal experts predict more sexual discrimination lawsuits.
Ms. Pao, currently the interim chief at the social media news site Reddit, told the
Los Angeles Times
that many women she didn't know shared their own experiences with sexual discrimination, many of whom had never shared their stories with anyone else.
When it comes to gender inequality, the TV series
Mad Men
could be scripted in present day Silicon Valley. (Last night's episode saw female characters Joan and Peggy endure sexual harassment at work by men behaving very badly.)
Facebook lawsuit
A former Facebook manager accused the company of discrimination, harassment and retaliation because she is a woman and of Taiwanese descent. Lawless & Lawless, the same law firm that represented Ms. Pao, brought the charges against Facebook after Chia Hong was terminated. The
Los Angeles Times
said the lawsuit claims Facebook officials asked Hong "why she did not stay home and take care of her children," and regularly ignored or belittled her professional opinions at meetings where she was one of few women. According to Hong, she was replaced by a man who was less qualified and less experienced.
Twitter lawsuit
In the discrimination lawsuit against Twitter, former engineer Tina Huang makes the same claims that Ms. Pao made about Kleiner, i.e., the promotion process is unclear and is biased in favor of men. Both Facebook and Twitter said they are committed to a supportive and diverse workplace.
Statistics show otherwise. In a fall 2013 report, the US Census found that "women's representation in computer occupations has declined since the 1990s," with women filling just 22 percent of software developer jobs. Venture capital numbers are even lower: according to a study from Babson College, the share of women partners in venture capital firms declined to 6 percent in 2014, from 10 percent in 1999.
Lessons learned
Deborah Rhode, a law professor at Stanford University, said the Pao case "sends a powerful signal to Silicon Valley in general and the venture capital industry in particular...Defendants who win in court sometimes lose in the world outside it."
And the
International New York Times
(April 1, 2015) pointed out that, after Kleiner Perkins emails were read during testimony, be careful what you write. Apparently sexist e-mails abruptly stopped circulating with the much-publicized lawsuit and another venture capital firm said they will have a human resources employee with explicit policies. Lastly, the
New York Times
reported that a third venture capitalist was "rethinking whether he had turned away female entrepreneurs too quickly in the past."