Pulitzer Prize Winner Files Discrimination Lawsuit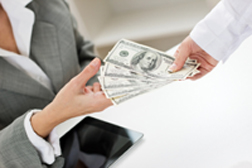 By
Heidi Turner
Los Angeles, CA: The Los Angeles Times is used to reporting on lawsuits, but now it faces a California discrimination lawsuit of its own, filed by a Pulitzer Prize-winning journalist. Jeffrey Gottlieb filed the lawsuit, alleging age discrimination, harassment, and retaliation.
Gottlieb was hired in March 1997 as an assistant city editor and through his years at
Los Angeles Times
worked as a staff writer, assistant city editor, and senior writer.
Court documents
note that Gottlieb and his writing partner - Ruben Vives - co-wrote many stories, including work on corruption in the City of Bell that resulted in them winning Pulitzer Prize for Public Service, a George Polk Award, and a variety of other awards.
Although he won the George Polk award, Gottlieb argues his bosses didn't tell him or Vives about the award, with them finding out by accident, and despite receiving money for other awards, that award money was not fully distributed even two years after it was won. Gottlieb complained to the publisher about the money not being distributed, and complained about illegal activity in relation to the prize money not being disbursed, speaking about the incident in the
Washington Post
.
Despite winning the Pulitzer Prize, Gottlieb alleges he was not assigned any further investigative reporting duties and was instead sent to Orange County, where his career had initially started, while two other reporters were given the title of investigative reporter.
In August 2014, Gottlieb was told he would be the backup obituaries reporter and then given a choice of covering a variety of topics he considered decent for a new reporter, but not a veteran. In 2015, he had surgery for prostate cancer and was on disability leave for almost eight weeks. Upon his return from leave, he was told he could write obituaries, at which point Gottlieb quit his job.
"Plaintiff felt forced to resign due to his intolerable working conditions, effectively constructively terminating his employment with defendants," court documents state. Shortly after, however, the Times reportedly had a buyout and targeted older reporters with the buyout. Furthermore, Gottlieb alleges, the paper generally hired younger employees and gave better jobs and benefits to employees under the age of 40.
"During plaintiff's employment with defendants, defendants intentionally engaged in age discrimination by discharging employees over the age of 40 with greater frequency than other employees," the lawsuit states. Gottlieb's suit is filed against the
Los Angeles Times
and editor and publisher Davan Maharaj.
The newspaper has called the allegations "completely without merit."
The lawsuit is Gottlieb v. Los Angeles Times, et al. case number BC630018, in Superior Court of California, County of Los Angeles.