Former US Marine Wrongfully Terminated from California 7-Eleven Store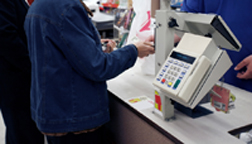 By
Jane Mundy
Sun Valley, CA It's sad enough that a former US Marine works at a 7-Eleven convenience store because it's the only place that offered graveyard shift - since returning from Afghanistan, Christopher hasn't been able to sleep nights. But wrongful termination in this situation is an outrageous violation of the California labor law.

Christopher says his former employer had violated California labor codes on a number of issues, including
California overtime
.
"Even though I was only paid $8 an hour, I took the job because it was night shift," says Christopher. "When I first started, the 7-Eleven franchise owner asked me to promote their grand opening: I have a lot of ex-Marine and LAPD buddies so I was able to bring in a lot of business. I photocopied flyers and passed them around in my spare time…"
Christopher wasn't paid to promote the store and he never asked for overtime pay - he was already working 40 hours a week. Things began to go sideways when his employer had a problem with the method of payroll and decided to go the paperless route. Christopher had two choices: he could have direct deposit or have his paychecks added to a debit card. He chose the latter but more than a month went by without getting paid.
"I was sinking financially and my bills were overdue," Christopher explains. "Although I get benefits from the VA, it isn't enough to cover my expenses so I was getting concerned. I had to borrow $80 from my employer, until they got payroll sorted out. Meanwhile, they owed me almost 50 hours of overtime and this time I asked for it."
But the owners flat-out refused to pay overtime. Christopher says that the owners watch their staff on surveillance videos after their shifts are over and critique you, so everyone's overtime is also on video. Christopher is certain that he was fired because he stood up for his rights and questioned the overtime issue.
"The owner didn't have my last check upon termination, which is another violation of the California labor code," says Christopher. "When I asked her why I was fired, she said that I was still under the 90-day probationary period and she didn't have to give me a reason. I bent over backwards for her, all for $8 per hour.
"Talk about a hypocrite! This woman told customers over and over that she treats everyone like a family member but we were all treated like lackeys. I am aware that in her country they have a caste society and I saw this played out. And they never paid employees while training, which meant they got hours and hours of free labor - trainees had to haul merchandise off the trucks and stock the shelves. It was also a toxic work environment: If something goes wrong they would reprimand you but I always thought that making mistakes is part of the learning process."
Christopher called the 7-Eleven corporate franchise office but didn't get anywhere. He told them that his employer had violated several California labor laws, including his wrongful termination, but he never got a return call. "A few weeks later I called again. The HR woman said that they called my employer and it was taken care of," he says. "Negative."
Interestingly, one reason Christopher worked overtime was because the store was selling expired food and he had to re-label the expiration dates!
"They have a lot of condiments for hot dogs etc. with expiration dates of two days," Christopher explains. "When these dates had expired, we had to re-label them - adding four days. As well, the owner would take off the expiration dates of turkey and tuna sandwiches and give them to the homeless shelter. Rather than throw them out, she had a tax write-off. Same went for donuts and pastries."
Makes you think twice about buying sandwiches at a 7-Eleven, but this isn't necessarily common practice - the 7-Eleven stores are franchises. Christopher might want to phone the 7-Eleven corporate office: Besides violating labor laws, this store might get slapped with violations from the Health Department.