California Labor Law Needs Compassionate Code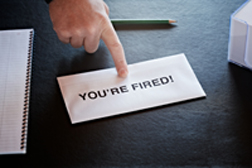 By
Jane Mundy
Riverside, CA With "at will" employment and consequent firing at will, the California labor laws seem harsh and outdated and mainly in favor of the employer. Such is the case with Shawn, who was fired after working 18 years with a perfect record.

Shawn, 49 years old and married with an eight-year-old son, was a truck mechanic at one of the biggest freight companies in the US. He routinely had his shifts changed, one week starting at 4 p.m., another week at 1 a.m. "All those years it never affected me until recently, maybe because I am getting older," says Shawn. "We always partnered on shifts, but on one shift change I was working the night shift alone in this huge facility with nobody there, not even security. I got anxious to say the least. One night it was so bad I left early and went to ER. I had no idea what was going on until they ran blood tests, and it cost me $1,500."
The ER doctor told Shawn that he was having an anxiety attack. Shawn had more tests and his family doctor advised him to change the shift work and not work alone or it would kill him. He was prescribed medication for anxiety and he wasn't sleeping well either - a common occurrence with shift work. But this was definitely a wake-up call: two of Shawn's co-workers had suffered heart attacks and one guy had a heart attack on the job and died - he was working alone. One night, Shawn's anxiety got so bad that he had to go home.
"I told the guy I was working with that I had to sit in my car but I hadn't clocked out," Shawn explains. "I fully intended to clock out but I felt so lousy I had to sit down for a minute; I was afraid that I might trip or fall; I was an accident waiting to happen.
Shawn's manager found him sitting in his car. "I explained that I felt bad and had to go home but he placed me on suspension and I was terminated a week later - September 4," Shawn says.
Shawn tried to fight their decision - by himself. The company has a so-called "best practices code," which is supposedly a way for an employee to fight the reason of their termination. "First, I had a conference call with my manager and his manager and then they called and fired me a week later," he says. "I appealed within the company (you get three chances to appeal so this was my second time) and it went up the management ladder, this time including some people from HR. They shot me down again. I said I wanted to appeal again and this time it would be via mail, no calls. They came back with the same decision."
Next up, Shawn filed for unemployment - something he had never done before. He received a few checks and was looking for work. Then, without notice, the checks stopped. He e-mailed the California Unemployment Development Department and they replied that his former employer was denying his unemployment benefits. They also told Shawn that he would get a letter with a court date to appeal that decision. Shawn was shocked - he had no idea of how the process worked.
"I went to court with my wife and son. My boss didn't even show up with the excuse that it was too far to come - 50 miles. I drove 30 miles," says Shawn. "But he was on the conference call and the judge was asking us both questions. The judge said he would take everything into consideration and send the results via mail. But it didn't take long: he made a decision the next day, in my favor.
The judge said that if I had clocked out before I sat in my car this would never have happened. But it was a one-time occurrence. I believe that I have been
wrongfully terminated
: this incident spiraled out of control because I was working alone and had to endure so many shift changes."
Adding to his problems, Shawn is now suffering from depression. He is worried that getting fired will tarnish his perfect work history of 25-plus years. "I was told that the company cannot disparage me in any way," he says. "Apparently, they aren't allowed to say that I was fired. However, I want to apply for a job with the city and one question they ask is whether you have ever been fired. I have to be honest so I didn't continue the application. I am hopeful that an employment attorney can advise me. And it's not over yet - I have to wait 20 more days to find out if I will be able to continue collecting unemployment because the company can appeal the judge's decision!"
To be continued after 20 days. And at that time the company will be revealed…