Summertime and Many Unpaid Interns Misclassified, according to the California Labor Law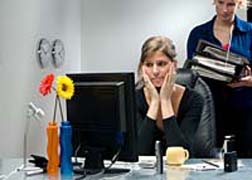 By
Jane Mundy
Sacramento, CA For some employers, summer is the time to reduce labor costs by bringing onboard (not hiring) unpaid interns, typically college students. But officials are cracking down on misclassified interns and issuing guidance letters to employers advising whether they are breaking the California labor law.

Contrary to what some employers believe, an internship does not mean free labor; many people are exploited and misclassified, and therefore owed wages and possibly overtime pay.
Brittany wants to become a dog groomer. She couldn't afford to attend school so she searched Craigslist and accepted on-the-job training at a "doggie daycare" with a promise that she would learn the trade within a few months. Instead, she spends most of the day "cleaning up the premises, feeding the dogs and getting coffee for the owner." According to California labor law, if you are an unpaid intern, no work can be performed that is of any benefit
at all
to the company.
In other words, Brittany should only be grooming dogs. No coffee runs, no mopping the floor. Brittany must be paid at least minimum wage,
California overtime
(any time over 8 hours in a day and 40 in a week) as well as meal and rest breaks if her employer hasn't met the Department of Labor's (DOL's) six criteria, as follows:
• The training, even though it includes actual operation of the employer's facilities, is similar to that which would be given in a vocational school.
• The training is for the benefit of the trainees or students.
• The trainees or students do not displace regular employees, but work under their close observation.
• The employer derives no immediate advantage from the activities of the trainees or students, and, on occasion, the employer's operations actually may be impeded.
• The trainees or students are not necessarily entitled to a job at the conclusion of the training period.
• The employer and the trainees or students understand that the latter are not entitled to wages for the time spent in training.
Clearly, Brittany's employer is deriving "immediate advantage from the activities of the trainee(s)." In the US, internships are illegal in the "for profit" sector if the intern isn't there strictly to learn. Recently, an Oregon jury awarded two men who installed solar panels for their "internship" $3,350 each in pay, determining they were actually working rather than learning. And California isn't far behind: California labor law officials are now issuing warnings to companies with internship programs.
According to a 2008 survey by the National Association of Colleges and Employers, 50 percent of graduating students had participated in internships. And in 2010, Stanford University's job board had 643 unpaid internships posted by employers, which was more than triple that of two years ago. In 1992, however, a Northwestern University study reported 17 percent had interned. Possibly because of the recession??"employers are trying to keep costs down and jobs are scarce??"unpaid internships would appear to be on the upswing.
Unfortunately, many unpaid interns are not reporting this abuse; they are afraid of retaliation and possibly not getting the job they are promised. But retaliation is also a violation of the California labor code??"ask an experienced California labor law attorney.