Retaliation, a California Labor Law Violation, on the Rise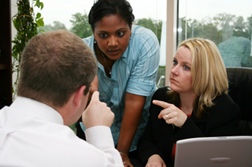 By
Jane Mundy
Oxnard, CA According to the US Equal Employment Opportunity Commission (EEOC), retaliation claims are at a record high level, up 18 percent from 2006. The EEOC recognizes that this is mainly due to the current economic condition and warns employers to be aware of retaliation policies, along with anti-discrimination and harassment laws. One California woman believes she has a definite retaliation case against her former employer. "Someone needs to tell [my former company] that it is violating California labor law, particularly the retaliation policy," says Margie.

"This company is also violating
ERISA
and
workers' compensation
labor laws, and not just in my case," Margie continues. "There are many complaints about the company. I want the public to be aware that this is a less than reputable company; I would like to warn you not to work there and be careful if you have STD or LTD disability and workers' compensation disability through them. They practice denial, denial, denial - and I'm not just talking as a disgruntled employee.
"My story began when I was threatened with bodily harm by a co-worker. I had to sit opposite this girl??"I am a senior disability benefits specialist and she was under me. I don't know if she had it in for me because of my age (I'm 52 and a grandmother) or because she was jealous of my position. 'I'm gonna do a smack-down on you,' she said. In my book that means she is going to beat the snot out of me...
"I went to HR and they launched an investigation. I also made my supervisors aware of what was going on and they complained about her to HR as well. They physically witnessed her abuse to me. HR gave her a written notice about one week later, telling her to cease and desist. But she didn't and the problem continued.
"I requested a transfer so we wouldn't have to work together. I was in another department but the girl still wouldn't leave me alone??"or my son.
"HR told me to ignore her and soon afterward I went on vacation for two weeks. While I was gone this woman attacked my 22-year-old son, who also works at the company. After work she saw him in his car and she tried to pull him out. 'I want to kick your ass so get out of the car now,' she screamed, in front of several witnesses. I guess he was the next best thing to me!
"Apparently my son just looked at her and started laughing. He got out of the car and said, 'If you don't calm down now I m calling the police." He told her to 'bounce', which means get lost.
"They questioned everyone about this incident but still did nothing. When they called this crazy woman into HR she even made verbal threats to the HR person (who told me). That's when they decided to fire her. The reason she wasn't fired earlier was because her mother was one of the managers in the company.
"Four weeks after she was fired, in retaliation, one of the managers transferred me to her mother's department. I was a forced transfer and there wasn't any reason to do this.
"Moving forward, I hurt myself at work and exercised my rights for STD so I could have a cervical neck fusion. (I had continuous trauma due to lifting heavy boxes frequently, and holding a phone to my ear and trying to type at the same time). When I returned to work after eight weeks, I had physician restrictions: no overtime, no driving, no picking up anything up over 10 lbs.
"I'd had a year-end performance review for the prior year and it was a decent review. But about six months later I was given a final written notice with no prior notice of any deficiencies. Prior notice must give you a time frame: you have to improve within a certain period of time or get terminated. But I was never given any previous notices.
"In this final written notice, I was told that I have to work overtime. And they tried to force me to work overtime but I refused, citing my doctor's restrictions. I ended up taking workers' compensation disability due to stress, anxiety and panic because of this notice. I saw this as a form of harassment because I couldn't work overtime and retaliation by the crazy woman's mother.
"They really made things difficult for me. For example, upon my return from STD I requested one of the keyboard trays for ergonomic reasons. I was made to wait more than six weeks, even though other employees who requested it got it within a week. They used every trick in the book in an attempt to get me to quit.
"They see me as a liability to their company because I had injured myself.
"The day I returned from STD the claims director decided it was funny to see me in a neck brace and laughed at me. Nice. Bottom line: prior to my final written notice I always had stellar reviews and increases and promotions and I got a raise three months prior to this notice. I am now 'out' of the company and believe I have been fired, but they haven't the grapes to formally tell me.
"I left on stress leave in December 2008 and got paid benefits exactly one year later. I'm still getting workers' comp but there has been no communication from the company. In fact, I hired a workers' comp attorney in February 2009, who took the company to court because they wouldn't pay my benefits. My case went to court in December and the judge immediately ordered the company to pay my benefits. But I didn't get any back pay??"we are going back to court for that."
The California Government's Department of Industrial Relations states: "An employee or job applicant alleging retaliation or discrimination in violation of any law under the jurisdiction of the Labor Commissioner must file a complaint with the DLSE within six months of the adverse action. Adverse actions include unlawful discharge, demotion, suspension, reduction in pay or hours, refusal to hire or promote, etc."