HR Getting Personal Spells California Labor Lawsuit?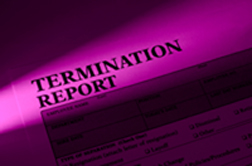 By
Jane Mundy
Sonoma County, CA When Karen was quizzed by HR about her relationship with her boyfriend, she was upset, to say the least. And she figured it was a California labor law violation. Karen was pro-active: she phoned the California Labor Board and filed a harassment claim. And she is pursuing a wrongful termination claim with an employment attorney.

It all started with a sick day that Karen took last month. Her boyfriend, Bob, was having a heart problem; he'd had a heart attack last year so she wasn't taking any chances and drove him to the doctor. Now it so happens that Bob works at the same company as Karen did. And the only way that Karen could take the day off - she was honest and told her boss the reason - was if she was a
domestic partner
.
"I told my manager that Bob and I have lived together since last June but we aren't married," Karen says. "He signed my time-off request and I was paid for the day. But I was questioned about it two weeks later."
Karen's questioning sounds like it was conducted by the Spanish Inquisition rather than an outside HR consultant. "She told me that she was following the employee handbook policy regarding sick time off," says Karen. "Then she pointed to her laptop and asked me if I wanted to read the definition of a
registered
California domestic partner. I replied that I have read it and understand it is more for gays and lesbians so they can get all medical and dental benefits, and other benefits. Then she asked if my boyfriend was still married (he is getting a divorce). I have worked in HR and payroll so I know what can and cannot be asked, and this question was an invasion of privacy.
"I replied that it was none of her business and I also said, 'I am going to look into the California labor law to determine whether you can ask me that question.' My manager was there too: they were trying to figure out whether I should have been paid for that day off. Needless to say I went back to my office very upset. They were treating me like I did something wrong, like I was being punished for living with a married man."
Karen sent an email to her boss, the HR person and the owner of the company, saying that her workplace now felt like a hostile environment. She also said that she liked her job and it wasn't fair that she was being treated this way.
Karen called the California labor board on her lunch break and asked if they could dock her one day's pay after signing off. And she asked if personal questions were a violation of the California labor code. "I was advised that I would have a claim against the company if they took time away after signing off," Karen explains. "Two weeks later, on February 22, I was called into a meeting with my manager, his manager and a different outside HR consultant.
"They fired me as an at-will employee and said it was because of my performance. I have never been written up, my reviews have been perfect, and I have emails from other managers commending me on my work. To top it off, the owner called Bob and told him that they didn't want him to quit. They want to give him a raise and make him a lead technician.
"In my meeting with the new HR person who showed up to fire me, she asked me to send her my resume so that she could send it out to her network and help me find another job. 'Why would you fire me and then help me find a job?' I replied. I think they fired me because of personal reasons, because my boyfriend isn't divorced yet.
"There is nothing in the Employee Handbook that says employees are not allowed to have relationships with their co-workers. The HR consultant said that I have to be a
registered
California domestic partner but that isn't in the handbook, it just says domestic partner and nothing about being registered. It is a little technicality they are using to fire me.
"HR asked me to sign the reason for termination paper. Instead I wrote: 'I refuse to sign this paper for job performance because it is wrong and this is retaliation.'
"When you get fired for poor job performance in California, that is a reason for non-payment of unemployment benefits. But I filed anyway because they have to prove that my job performance was bad and I know they cannot do that.
"Needless to say, Bob wants to quit. I told him not to because it is a good job for him and if he got a similar job it would mean a two-hour commute. And they are offering him more money because they know they did me wrong.
"Now I am waiting to hear back from the Labor Board. Meanwhile, I also contacted an employment attorney. I don't wish anything bad for the company owners but I want them to know their manager cannot treat people this way. I want a written apology from her and a statement saying I wasn't fired because of my job performance. And now I have to explain my situation to potential employers: It sickens me that a manager can treat you this way, that someone can have this much power over you."
Here is more information about
at-will employment
and
domestic partner
information.