California Labor Law: No Promotion Spells Discrimination
By
Jane Mundy
Los Angeles, CA Alice, an African-American, says she was overlooked for promotion on six occasions and believes she was discriminated against??"a California Labor Law violation. "Each time I was up for promotion my employer hired young, white males," she says, "and they were much less qualified than me."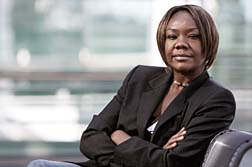 Being promised a promotion and then overlooked six times has taken its toll on Alice. Not only has she suffered from anxiety and depression, she has also suffered physically. "I've been living with chronic stomach pains and debilitating fatigue," she says, all of which were documented by her physician. And no wonder: for the past two years, Alice has also been harassed and humiliated by co-workers and her manager. When she complained to the HR manager, Alice was told that she might want to consider "finding someplace else to work."
In 2006 Alice was hired as a sales representative for a start up Internet company. "I was the fourth sales rep hired and we had this great, diverse team," says Alice. "It was exciting and I learned a lot; it was a very progressive company."
Fast forward one year. "My boss, who was phenomenal, finally quit. She had so much pressure because she was a lesbian: someone at work Googled her name and pulled up some background information. They found out that she was involved in a lawsuit years ago??"she was suing the company for wrongful dismissal and now she was being forced to quit. She was the best boss I ever had and interestingly, the only female in a managerial position??"there are about 200 or 250 employees in this company and I think that really says something…
They treated her so badly; she wasn't involved in any decisions and was given more than the cold shoulder. And they brought in a younger white male to replace her??"seems like a pattern here because I was treated the same way.
Her quotas were exceeded every month; she did above and beyond what she was asked to do. At this time I was an account manager and ready to be promoted to a higher sales position. When I pursued it, the VP said I should stay in my role for a few months until the new director was acclimated.
So I waited.
The new guy promoted two younger white males ahead of me. Then a third white male was hired: all three had less experience than me and poor performance records. I excelled in my job and there was no reason not to get promoted. In retrospect I am a little naïve because I kept thinking that my turn was coming. Meanwhile, the new director and I were not getting along. I had to change my work hours to suit his schedule and he treated me like his assistant.
I guess it all came to a head when we had a meeting one day and the new director referred to me as 'Mmmhmmm girlfriend,' and snapped his fingers. He was treating me like I was from the ghetto, like a second-class citizen. He doesn't say that to white girls. I went to HR about it and filed a complaint.
A few days later the HR manager called me into his office and said if I was unhappy I should work somewhere else. 'You have a new boss now and I think you are giving him a hard time because you miss J (who quit).' I was so stressed out that I ran to the bathroom and threw up. Plus I was having anxiety attacks. My doctor advised me to leave my job but I thought my doctor didn't understand--the guys on the team still needed me and I wanted to be there for them.
Next morning at 8am, the new director made us chant, 'I am a believer.' It was humiliating, like some tacky evangelist. I'd break out in a sweat; I would freak out having to do this. Everybody else felt like me, nobody wanted to do it.
I couldn't take it anymore. I went to the CRO (corporate revenue officer) and he promised to make some changes but three months go by and no change. Instead, I was ostracized.
A position was posted on the website looking for a sales person. I told the VP I was going to apply but he told me not to??"they weren't hiring for another 90 days. I applied anyway. One week later a new rep was hired: wait for it??"a young, white male.
Two more males were hired ahead of me. It was a repetitive pattern??"the same treatment as J. I filed a complaint with the equal opportunity commission (EOC) which is tied to the civil rights act and I told the VP that I was being overlooked for promotion. I sent the VP an email saying: ' I know you aren't hiring based on experience, Is it because I am a woman?
'We aren't passing you over because you are black,' she replied. I had never even mentioned the color of my skin. She wanted me to rescind the complaint.
And here is another slap in the face: I made the largest monetary deal in the company, ever. They decide to have an award ceremony every month. The guy who brought in $30,000 got a trophy and my deal was $1.7 million. I didn't even get a Timex watch.
It was time for me to go. Since leaving my health has improved, no more nightmares, no night sweats. Even though I haven't found another position yet, my self-esteem is back.
I want them to admit they were wrong. I was the only African-American female not in a subordinate position: this is LA, it's a melting pot. Obviously they had a preference for young white males."