California Labor Law Violations—Triple Whammy
By
Jane Mundy
West Hollywood, CA Not only was Daniel harassed and discriminated against in his first job, to the point that he became ill and was terminated, but when he found another job, he worked in excess of 60 hours a week without overtime pay??"three violations of the California Labor Law.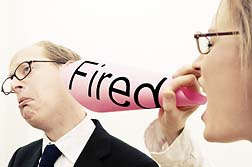 Daniel has an exemplary employment record: he worked as a police officer for 10 years before changing careers??"he went to nursing school, graduated at the top of his class and got a job at a California medical center as a clinical review nurse.
He worked for a 18 months at Blue Shield as an Appeals and Grievance nurse. "At that time the department was first setting up and I was the 'go-to' man," says Daniel. " I received bonus awards and other department heads said I was excelling at my work. I did so well that the director asked if I would move into the quality department and do investigative work??"for members who had complaints against their doctors for quality of care, who were denied certain kinds of care, etc.
I had many responsibilities and I loved my work, until we had a management change. The new manager didn't like my work. I was constantly harassed by her and got depressed; I went on medical leave and eventually lost my job. Meanwhile I discovered that I wasn't getting paid the same amount of pay as my co-workers; they were also receiving fringe benefits that I wasn't getting such as a flexible work schedule.
We were all exempt and they were trying to put me on a schedule. As an exempt employee we were allowed certain freedoms that the hourly employees were not entitled to. As well, my female co-worker was new and inexperienced and was getting paid a lot more than me, and I trained her.
I think I was discriminated against because I am gay or it could be because I am male. For example, this new medical director called me into her office one day and said, 'You are challenged'. I assumed she meant knowledgably challenged in my work. She also said I didn't know how to write and that I was constantly late with my work. Nothing could have been further from the truth. This was very shocking and demoralizing.
She treated me like this constantly. I put up with her abuse for almost a year but my mental state was getting worse, to the point where I was dreading coming in to work--I had no choice, I needed my paycheck and I wasn't in the right head space to find another job.
I also reported the director to HR. They told her to give me the opportunity to take time off and do a performance improvement revue of my work. That got her even angrier and one day I just had a breakdown at work.
My unit manager and medical director called me into her office: they told me that my work was insufficient and they didn't like anything I did. I had a panic attack. I went back to my desk and couldn't breathe; then I got up, walked out the door and didn't return.
This happened at the beginning of 2008; I also filed with the EEOC; they sent a letter to Blue Shield saying the company has been charged with discrimination, retaliation and violation of the FLSA act. So far nothing has happened with government agencies so I decided to seek legal help.
I got another job six months later as the manager of quality management at the AIDS Health Care foundation. I didn't have any employees to supervise, it was essentially a title, but I was exempt so I was paid a salary. I worked almost every weekend and evenings??"in excess of 60 hours a week.
I started to get sick and depressed again??"I got the same symptoms back. I asked my supervisor for 2 days off but she denied me and stated, 'We don't owe you a living'. I am the hardest worker they had, I just don't get it. So I resigned.
I started this job at the end of April last year and worked until the beginning of February 2009; during that entire time there were only 4 weekends that I didn't work, so they owe me a substantial amount of overtime. I was the only person in this department so I had nobody to supervise. Why was I classified as exempt? I believe it was to avoid paying overtime."
Daniel has really been through the wringer with these two jobs. He is currently unemployed and in debt but looking for work in managed care or sales. And he is seeking legal help rather than wait for federal agencies to deal with these three California Labor Law violations.