California Labor Law: Pause for Pregnancy
By
Jane Mundy
San Mateo, CA Federal laws regarding pregnancy discrimination have changed since 1992, thus making it easier to bring cases to trial, but pregnancy bias claims are growing: in 2006, almost 5,000 pregnancy discrimination complaints were filed with the US Equal Opportunity Commission (EEOC). Pregnancy discrimination is a violation of the California Labor Law, and "strikes its victims at a time when they are quite vulnerable," said Joan Ehrlich, EEOC's San Francisco district director.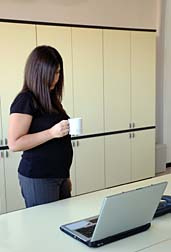 "Since I told my boss I am pregnant, he has threatened to fire me," says Clarety S. "I bartend at a private restaurant and everything was great up until now. He says I am not performing and if I get another write-up I will be fired." Clarety says the boss's wife has harassed her, "being rude and talking about me behind my back." Further into her pregnancy, Clarety became a bit limited in what she could do and the boss got madder. "I would try to sit with the servers and help fold napkins during my free time, just to help out and stay working but he would tell me to get up and go clean the bar. He got upset when we were setting up for a private party because I couldn't do heavy lifting." Clarety has numerous incidents documented such as this one…
Clarety was written up for not doing her duty. When she refused to do any heavy lifting, her boss said she was on "thin ice" and all she needed was three more write-ups then she would get her pink slip "and I would be out the door," she adds. "Then he told me he didn't care that I'm pregnant because if I have four write-ups I can get fired without having to worry about California labor laws. I feel like they are just trying to get me out the door so they don't have to worry about my maternity leave and hiring me back after I have the baby."
"The Christian school that I work for is terminating me because I am pregnant and unmarried," says Felicia G. "They claim that my pregnancy goes against my commitment as a Christian. "I have always received great reviews each year for my work performance at the school but now, the school official is requesting I sign a letter of mutual agreement of my termination. It offers me a $2,000 severance payment and payment of my health benefits (COBRA) until the end of my pregnancy. Due to this situation, I am under a lot of stress." Felicia wants to know if this termination is legal and whether she has to sign the termination letter even though she does not agree with their decision.
"The rise in pregnancy-related cases is part of a rise in motherhood cases," said law professor Joan Williams, director of the Hastings Center on WorkLife Law at the University of California. "Motherhood is a key trigger for gender discrimination," she said. And a reason for an increase in lawsuits is because times have changed: just a few decades ago, women felt privileged to be in the workforce, whereas today, women believe it is their entitlement, just as they are entitled to be good mothers. "When employers penalize them for getting pregnant or having children, young women tend to say, 'Hey, that's sex discrimination' and they are more likely to sue," says Williams.
A few examples:
In August 2007 the Fresno Bee reported that Radio personality Athena Matsikas filed a lawsuit against KHGE, FM 102.1, the local radio station where she served as a morning on-air personality since March 2006. The station fired Matsikas when she was eight months pregnant. Matsikas' lawsuit, filed July 27 in Superior Court in Fresno, alleges sex harassment; pregnancy discrimination; failure to maintain an environment free from harassment; negligent supervision, hiring and retention; wrongful termination in violation of public policy; sexual battery; intentional infliction of emotional distress; negligent infliction of emotional distress; and retaliation. The Bee reported that, "according to Matsikas, the station offered her a three-month severance package and an extension of her insurance if she signed an agreement not to take legal action against the station. Matsikas says she didn't sign it."
A few months later, a separate lawsuit was filed against the news and financial services company Bloomberg, alleging the company demoted and reduced the pay of female employees after they announced their pregnancies and after they took maternity leaves. The EEOC said some women were replaced by more junior male employees. The lawsuit also alleges that the same pregnant women and new mothers were excluded from management meetings.
And In November 2007, Kaiser Foundation Health Plan agreed to pay $180,000 to a labor and delivery nurse to settle a lawsuit that claimed the woman's promotion was rescinded after she disclosed her pregnancy. The EEOC said two weeks before starting her new job??"a transfer from California to Maui--Margaret McIlroy disclosed her pregnancy and in less than 24 hours, she was told the offer had been withdrawn. McIlroy, who was 44 at the time, eventually lost her job. She and Kaiser also entered into a separate confidential agreement to settle her non-civil rights claims.
If you believe your employer has violated the California Labor law due to pregnancy discrimination, you must file a complaint with the California Department of Fair Employment and Housing (DFEH) within one year of the violation, in order to be able to file a lawsuit under the California Family Rights Act (in addition to the federal Family and Medical Leave Act). Or you can retain a lawyer and file a lawsuit yourself.
It is very important that you find out about California's state filing deadline so you may want to call a lawyer to find out what you need to do and when.