California Labor Law: A Double Dose of Discrimination
By
Jane Mundy
Calimesa, CA: "It's been a hard blow on my self-esteem to be discriminated against on two separate occasions, first one job and then another," says Patricia. The California Labor Law does not tolerate discrimination; Patricia believes she was fired because she is short and overweight and over 50 years old.

In June 2007 Patricia was hired as a receptionist for a large office building. She had to start on a Tuesday because she replaced Anne, the receptionist who was fired on Monday.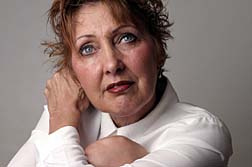 "I worked for this company until January 11," says Patricia. "I helped plan their opening grand ceremony in July and planned the entire Christmas party for 200 staff by myself." In other words, Patricia was a hard and loyal worker and there was no reason to fire her based on performance.
"In November, Anne was hired back as a sales manager but she didn't have any sales experience," Patricia adds. "Then on January 11, the owner of the building walked up to me with check in hand??"he paid me until the end of January but told me to pack up my desk and leave. The reason he gave was 'financial constraints on the company'.
Stay with me here: This owner also owned a storage company in the same building and Anne was helping the storage office manager out because he had fired an employee. Why wasn't she working as a sales manager? I soon found out…
I was fired on Friday and I found out on Monday that Anne's sister was hired for the storage office and they put Anne at my desk. The part that annoys me is that I am short and overweight. Anne is tall, young and thin. I am 52 and Anne is about 28. And the storage office manager is Anne's brother so now they have hired three family members. But my complaint is that they lied to me and I have been discriminated against. They can pay Anne my receptionist job so why couldn't they pay me?
Until the first part of April, 2008 I was unemployed and it was a financial blow. Unemployment benefits only paid about half of my regular wages. I was filing applications online on countless sites, looking for a receptionist position but couldn't find anything. Then in early April I got a call from American Income Life (AIL) insurance company to come in for an interview. When I got a call for this position, to sell life insurance, I was a bit dubious because I don't consider myself a good salesperson??"I am not a pushy person and to me that is what sales is all about. But I needed a job.
I had an initial outlay of $400 for the test, book materials and school and then it took about six weeks until I got my insurance license. Since the end of May of this year until now I have made less than $4,000. I didn't qualify for the unemployment extension so I was cut off. I still have a chance to appeal but now I had this job, however miniscule the pay. I only made one sale last week.
My manager at AIL told me I was dragging her numbers down and I had to make a minimum amount of sales for the week. I couldn't make that target and she said I had to turn in a minimum of $1,000 annual life premiums or hand in my resignation--nice environment to work in. I wasn't told that I had to make these targets when I was hired, before I shelled out $400. She is the kind of manager who focuses on those salespeople making money and treats others like dirt.
It's been a hard blow on my self-esteem, this double discrimination whammy. Physically it has taken its toll--I have gained weight due to stress eating. And I am exhausted. When I worked for AIL I was putting in an average of eight hours a day, seven days a week, plus I had to drive everywhere. I would call people and set up appointments and pay for my own gas??"about $150 per week in gas money??"that was supposed to be deducted at the end of the year. I kept the receipts for tax purposes but don't know if I will get paid from AIL. Of course I was let go…
The job I have now is strictly at a desk but I have insomnia, I think it is because of dealing with discrimination. I tried to contact the California labor board but I can't get hold of a real person. Its website states there is a six-month statute of limitations on being fired for discriminatory reasons. I filed outside that limit??"so now my next step is to seek legal help."